Quite a while ago, I wrote a post called I Don't Apologize for This, about standing out from the crowd and being different, and if you remember it, kudos to you. 😉 Anyway, I got some good feedback from that post and one of you requested that I write part two. And today . . . here is part two.
Why has it taken me so long to write this post? Well, for one simple reason. I had to live it first. Quite often, when I write something, it's because I'm in the middle of it, not because I have (necessarily) come out on the other side. Such was the case with that particular post. So, naturally, part two didn't come right away.
It is lonely to be different. To stand out. To have skills and interests that seem unimportant to your peers.
For most of my childhood, fitting in was not a priority for me. Until I found a friend group that gave me a glimpse into what "fitting in" could feel like. I started to feel like my former plans and dreams were . . . well, not important. I felt like I needed to keep up with the people my age who were going to college, pursuing careers, finding jobs. Ironically, this "need" was born from the beautiful feeling of acceptance from my youth group.
But, as things changed and I became more aware of the direction God was leading me, it became increasingly clear that the "inner circle" was not somewhere I was going to be. And that took a lot of getting used to.
As humans, most of us need to find acceptance and validation outside our family. We need to be appreciated for who we are, or else we'll find a way to fit someone else's mold. Initially, there's nothing wrong with the need for acceptance . . . as long as you don't let it control you. There IS someone out there who will like you for YOU. Who will validate and respect YOUR vision. A friend or mentor whose critique you will appreciate and look forward to. Someone who will be there for YOU.
That person may not be in your life now, but God created us for fellowship and comradery.
There is no greater love than to lay down one's life for one's friends.
JOHN 15:13
So, yes, it's lonely to be different. To stand out. To have skills and interests that seem unimportant to your peers.
But get this.
You are EXACTLY the way God made you. You are exactly the way HE wants you to be. What more can you ask for? What more can I want than to be set apart by the Creator of the universe, whose vastness we can't even hope to grasp this side of heaven?
And after all . . .
So, this week, I challenge you to take a moment out of your day to thank God for making you just the way you are. Take some time to write a story. Put a character in your shoes and your day-to-day struggles.
If this is a topic you would like me to write about again, please let me know. I have some ideas I could put into another post if you guys would like.
Meantime, I'll leave you with one of my favorite Lord of the Rings quotes ever . . .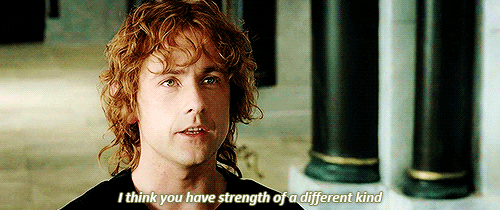 Peace out! ❤